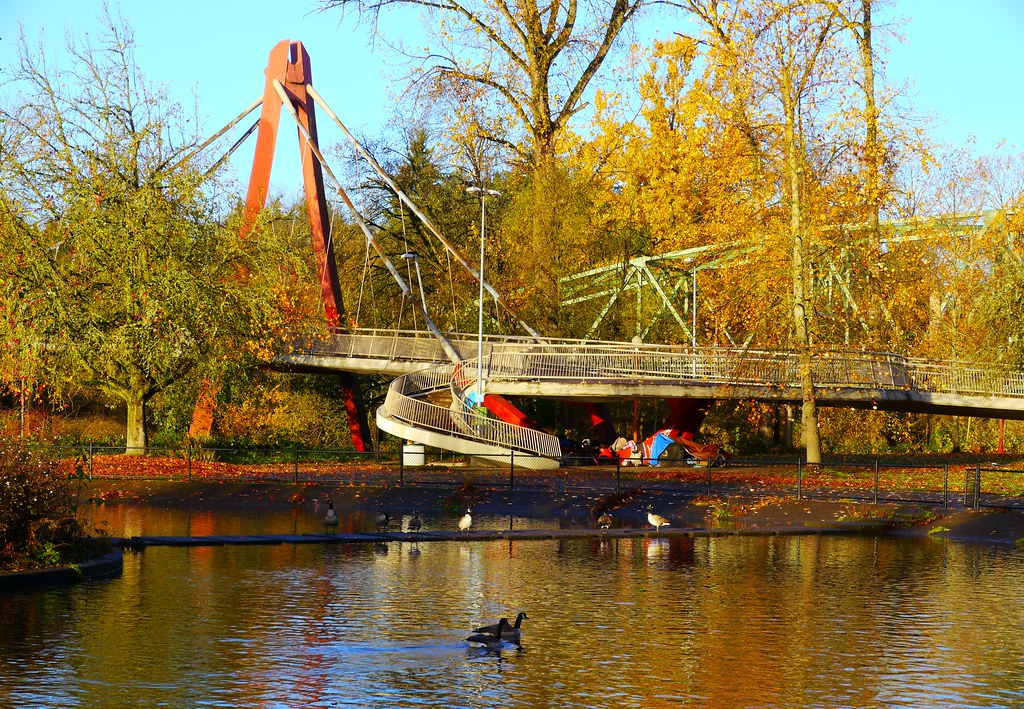 From trails, parks, and other outdoor attractions, Eugene is always ready for you to enjoy the great outdoors in style. In fact, there are so many places that are perfect for families and college students to have some fun that you might need some help. Planning a day out can be tough, that's why we at The Soto created the following list of attractions and activities. Now you won't have to look anywhere else when you're wanting to have some Outdoor Fun in Eugene, OR!
100 Day Island Rd, Eugene, OR 97401
Head to Alton Baker Park if you're in search of some modern and classic outdoor fun in Eugene, OR. This park is the city's most developed of its kind and offers a wide range of outdoor activities for all ages. Try checking out Hays Tree Garden, the Cuthbert Amphitheatre, and Pre's Trail if you're looking to enjoy a relaxing walk. On the flip side, Alton Baker Park features a BMX track, a disc golf course, looped paths, sports facilities, and great fishing spots for visitors who are in search of some outdoor thrill.
Enjoy Nature at West Eugene Wetlands
435 Bailey Hill Rd, Eugene, OR 97402
There's nothing like some outdoor fun in the West Eugene Wetlands. The area's rich environment has made it a popular outdoor attraction for nature enthusiasts, families, and school groups in the area. Don't be surprised if you spot some spectacular birds, bugs, and plant species on your mini-adventure at the West Eugene Wetlands. The area is filled with a rich ecosystem that attracts rare species.
248 Cheshire Ave, Eugene, OR 97401
Skinner Butte Park is one of the oldest and must-visit parks in the city of Eugene. This monumental park is home to one of the most spectacular climbs in the area. Thousands of climbers from all over the county visit Skinner Butte Park each year to test out their climbing skills on the climbable columns. Just make sure to take some climbing materials in case you find yourself up for the challenge! Skinner Butte Park is also features the RiverPlay Discovery Playground, the Skinner City Farm community garden, and acres of lawn and meadows for recreational fun.
The Cascades and Coast region of Eugene has some jaw dropping waterfalls worth visiting. No matter the season, the 7 waterfalls of Eugene offer some of the most majestic scenes you can encounter in your lifetime. Of course, these 7 waterfalls surround Eugene, which leads us to suggest for you to plan on multiple trips to visit them all. These amazing waterfalls include:
Summit Ave & Skyline Blvd, Eugene, OR 97403
Hendricks Park is the perfect spot for nature lovers in the Eugene area. This 80+ year-old park is filled with thousands of Douglas fir trees, ferns, and wildflowers such as trilliums and irises that fill it with majestic colors. A nice stroll through this historical park will have you forget you're still within the city limits and relieve some stress. Notable attractions at the park include lovely birds, trails, retro benches, lawn space, and great shaded areas for the summer time.
1820 W 7th Ave, Eugene, OR 97402
There's nothing like a good ol' game of Paintball amongst your friends to see who's top dog. Paintball Palace is Lane County's number one destination for paintballers and laser tag enthusiasts. The park features a diverse selection of terrains for you and your friends to enjoy. Paintball Palace also hosts plenty of tournaments throughout the year in case you're interested in a competitive challenge.
34901 Frank Parrish Rd, Eugene, OR 97405
You can never go wrong when you visit Mount Pisgah Arboretum. It's a great place to enjoy some outdoor fun in Eugene while admiring the true beauty of nature. This shining jewel of Lane County houses over 209 acres of natural land with various plant species and include venues available for rent.
300 N Jefferson St, Eugene, OR 97402
Head over to the Owen Rose Garden near the Washington Jefferson Street bridge if you're looking for a relaxing outdoor spot in Eugene. Originally, the garden started off with 750 rose bushes that were donated by the Eugene Rose Society. Over the years, this original set of roses soon turned into more than 4,500 roses of over 400 varieties. It's no wonder the Owen Rose Garden is a popular spot for Lane County locals to visit and learn about some rose care such as pruning techniques, planting methods, fertilizer needs, and general rose care.
The Fern Ridge area is most popular for water sports activities including windsurfing, sailing, water skiing, flat water kayaking, paddle boarding, swimming, and fishing. Whether you're looking to show off on the water or spending a calm evening fishing, Fern Ridge is the right spot for some summertime fun. Orchard Point Park is one of the most recognizable points, which serves as a shoreline park offering picnic facilities.
Parking lot entrance will be on your left at the sign for Spencer Butte Park
The Ridgeline Trail system is a unique way in which the city of Eugene connected a series of parks. Exploring this nature trail is a healthy way to have some outdoor fun in Eugene. For many years, the Ridgeline has been a popular place for bird watching and botanizing year-round. Another great thing about the Ridgeline Trail is the city's dedication towards trail maintenance and improvements, and treating invasive species.
205 Dorris St, Springfield, OR 97477
How about taking a small field trip to Dorris Ranch in Springfield, Oregon? This historical farm is home to some spectacular nature trails and natural areas that serve as the perfect escape from the city life. While you're there, don't forget to explore the popular Middle Fork Path on a bike. It's a 4-mile path that takes visitors through some spectacular areas all the way back to Eugene.
6100 Thurston Rd, Springfield, OR 97478
Just take a quick trip to the Splash park in Springfield if you're ever stuck at home during the summer and want to beat the heat with your family. It's an indoor waterpark located at Lively Park. Even if you're not looking to enjoy the water, you can always visit the park if you're looking for some different type of outdoor fun the Eugene area. The park itself also features a well-organized dog park for pups of all sizes, play areas, sand volleyball, and a great nature trail.
Washington St. and Jefferson St, Eugene, OR 97401
The WJ Skatepark is a free-to-skate park that is open regardless if it's sunny or raining. This 23,000 sq. ft. attraction invites skaters of all levels to show off their skills and learn some new ones on the way. The skate park includes some good features including iconic ribbon, mini-snake run, and a blend of varied skate terrain.
The rest of Urban Plaza Park features great pathways, occasional events, and lawn space open to the public.
Every month, the city of Eugene hosts various outdoor events that are closely related to the holidays and Eugene tradition. Eugene hosts one of a kind festivities you won't find anywhere else. From truffle tastings to mountain biking competitions, Eugene knows how to celebrate its culture in style. Some of the more popular outdoor events that take place around the year include:
Bacon, Bluegrass & Boneyard Beer Fest

Memorial Day Weekend on the Territorial Wine Trai

l

Shotgun Trail Blast Race

The 4th of July Celebrations

And Much More!
Just make sure to visit the City of Oregon event page if you're looking for some outdoor fun going on this month.